Workshop Wechselnde Themen mit wechselnden Lehrern –
Mattia Piraccini & Zuzana J.

Mittelstufe & Fortgeschrittene
Freitag 20. Mai 2022
19.30 – 20.45 Uhr
Workshop-Series
"Control your tango in space and time"
Freitag 13. Mai 2022
Workshop 1
Ocho cortado variations for social dancing
Freitag 20. Mai 2022
Workshop 2
The dance flow with linear and circular Giros

Freitag 27. Mai 2022
Workshop 3
Continuous Sacadas in a circular movement

About Mattia & Zuzana
Mattia left his martial arts career to start tango in Milan, where he studied with prominent teachers Alberto Colombo and Mariela Sametband. He became initially the assistant teacher and later, as a teacher, established and lead an independent branch of the school. He refined his tango in Buenos Aires with renowned teachers (Claudio Gonzales, Moira Castellano, Julio Balmaceda, Sebastian Jimenez, Fernando Galera) and upon return continued his teaching collaborations both in Italy and in London. In 2016 he placed in the finals of the Italian Metropolitan tango championship – Milonga category.
Zuzana started her dancing journey at an early age with classical ballet and later moved to ballroom dancing. After moving to Berlin, she was introduced to tango and studied intensively with a number of international guest and resident teachers in Berlin and Buenos Aires. Upon moving to Frankfurt am Main in 2020, Zuzana started teaching regular tango courses for all levels. Upon meeting in Frankfurt am Main, Mattia and Zuzana started a successful collaboration with the first show in Italy in 2020 and later in 2021 in the finals of the European tango championship in Münster placing sixth in two categories – Tango and Vals.
During the Covid times, upon request of the students Mattia realized a video series of tango mini classes, allowing the students to continue working on their tango. Their dynamic tango style is characterized by maximizing the control while keeping the flow of energy and very importantly keeping the connection. They are great believers in continuous learning, always returning and practicing the 'basics' in order to build and maintain a solid tango base, which allows the tango dancer to truly enjoy the dancing with ease and control.

————————————————————
Watch their performance in Italy:
https://www.youtube.com/watch?v=VH_J9vvMzbI&t=20s
'Living room tango' in Covid-lockdown:
https://www.youtube.com/watch?v=FawuhaRhO_E&t=111s
Example of an online mini-class from Corona-lockdown series 'Tango with Mattia':
https://www.youtube.com/watch?v=WW33CFinG4k
————————————————————
Preise:
Nur Workshop: 20,- / Person
Wokshop mit Milonga: 25,- / Person
nur Milonga: 10,- / Person
Preise und Ermäßigungen:
Studenten, Azubis und BisS erhalten 20% Ermäßigung auf alle Preise.
TANGO maldito – La Lunita Tangoloft
Haager Str. 10 a, 81671 München
Das Studio ist direkt am Ostbahnhof in der Haager Straße 10 a. Wir sind allerbestens mit dem MVV erreichbar. Wer mit dem Auto kommt – Parken kann man immer im Autospeicher im Werk 3, oder noch vornehmer im Autosaal des Gambino Hotels. Für beide TGs gilt 2,50 € pro Stunde und Nachtpauschale 6,00 €  von 19.00 Uhr bis 07.00 Uhr. Von dort am Riesenrad vorbei über die Freifläche in maximal 5 Minuten zum Studio. In Laufweite befinden sich Hotels, Restaurants und viele Geschäfte.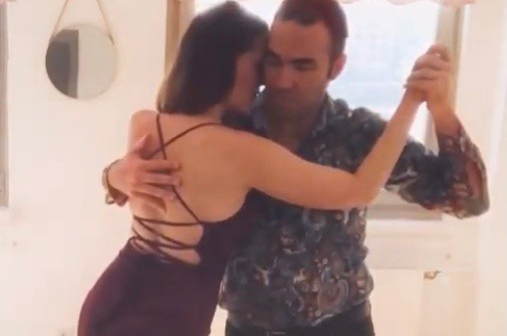 Mai 13 @ 19:30
La Lunita – Tangoloft